History Group publications for sale
Dawley Archive
Dawley History Group publications for sale
"A Dawley Wench" By Ann Rickus £5.00
We are now sold out of "A Dawley Wench" Book but we may be reordering it soon.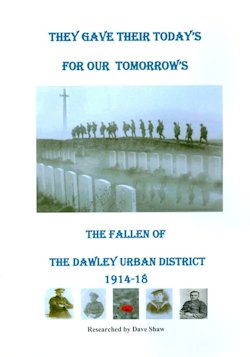 Dave Shaw's book
They Gave Their Today's For Our Tomorrow's
The Fallen of Dawley Urban District 1914-18
£10 each
The Pit Mounds of Dawley: - A brief description of the spoil tips in the Dawley Area.- Price £3
The Simmons Family - Cordwainers :- The story of the Simmons family and their possible
connection with the manufacture of the case ball that was used in the football game played on
the Western Front at Pont Rouge on Christmas Day 1914.- Price £3
William Henry (Fatty) Foulkes:- The first goalkeeper and captain of Chelsea Football Club
born at Old Park. This is the story of his early life, his place of birth and other members of his
family.- Price £4
Monumental Inscriptions of the Baptist Church, Dawley Bank.- Price £3
If you wish to purchase any of the books please email me so I can arrange delivery,
this will be free in the Telford area.
Contact me at: - dawleyheritage@gmail.com