William Foulke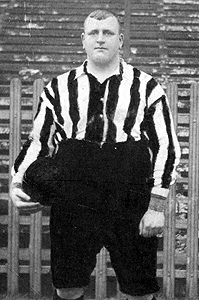 William (Billy) Foulke was born at Old Park, Dawley, and became a professional footballer and cricketer. He was a prodigy who during his career became one of the most talked about players in the world. One contemporary commentator described him as 'no small part of a mountain' whose height was cited variously somewhere between 6'2" and 6'4" and his weight between 22 stones and 25 stones, extraordinary enough for the Guinness Book of Records.

William Foulke was a goalkeeper, yet despite his great size, he was astonishingly agile. He enjoyed great success in his career, especially with his first club, Sheffield United FC, which he joined when he was just 19. He replaced another talented individual and one of the very first black players in the game, Arthur Wharton. During his time at Sheffield United, William Foulke won FA Cup winners' medals, a league championship medal, and his proudest achievement, a full England cap. It was his only international recognition, though some observers felt that his gamesmanship of pulling down the cross-bar to gain an advantage deprived him of further honours. On one occasion he snapped the bar, causing the match to be stopped.

William Foulke was a talented sportsman, and also played cricket, including 4 first-class matches for Derbyshire in 1900, but football was his greatest love. In 1905 he joined newly-formed Chelsea FC for £50 and became their first goalkeeper and captain. Despite staying only one season, he became a favourite with the supporters, not least for his ability to punch the ball over the halfway line and his talent for saving penalties. His last club was Bradford FC.

A colourful character with a legendary love of food, William Foulke became increasingly obese and reputedly temperamental. He was certainly colourful in his behaviour, on one occasion emerging from the changing room naked to pursue the referee for an errant decision, on other occasions holding players who had said something to offend him upside down over the muddy pitch. He took to sitting on people who teased him until they apologised.

William Foulke retired from the game in November 1907. He was only 42 when he died, but football has never quite seen a goalkeeper like him, before or after.