Biography of William Foulke
William Foulke, Footballer and cricketer 1874-1916
'Perhaps the most talked of player in the world'
by Paul Sherry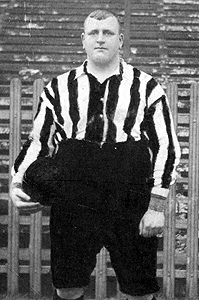 At the time of writing the England football squad assembles to put the finishing touches to meticulous preparations for the 2010 World Cup. The F.A. Cup Final has been played between Chelsea and Portsmouth with the London team completing a League and Cup double win. Meanwhile the England cricket team receive the Prime Minister's congratulations for winning the 20:20 trophy as they continue their own detailed preparations for the summer Test series to come.
This is sport at the highest level, requiring determination, a dedication to superhuman fitness and a winning mentality. For all events, preparations are scrupulous and painstaking with nothing left to chance which could have a bearing on player and team performance. Diet, psychological wellbeing, even family welfare are brought into play as coaches strive to gain an advantage which might provide an edge, however small, in the extreme mental and physical environment of modern sport.
In this arena there is no place for an individual who has not achieved the peak of physical fitness and optimum weight, body mass and muscular development.
Consider now the story of a player who also achieved success at the highest level in both football (playing for Chelsea) and cricket, but weighing in at more than 24 stone. The contrast is remarkable and yet one William Henry Foulke born in Dawley on 12th April 1874 did just that.
It hardly seems believable that someone carrying almost the equivalent weight of two modern footballers could even participate let alone make rapid upward progress to appear eventually as an England international player.

Fatty Foulke the footballer
William 'Fatty' Foulke, or Foulkes as he was often known, stood literally head and shoulders above his peers with his height given variously as being between 6' 2" and 6' 4". His dimensions, large, by any standards at that time, led to him becoming one of the earliest and most recognised sporting superstars. At the age of 19 he was already 6' 2" and weighed 15 stone when he was discovered by scouts playing in goal for a village side, Blackwell Pit, in a Derbyshire Cup tie at Ilkeston. He was immediately signed to Sheffield United and made his debut against West Bromwich Albion on September 1st 1894 and helped the team to reach three F.A. Cup finals, two of which they won, and a League championship. The losing final against Tottenham Hotspur Football Club, a non-league team in those days, drew a huge crowd by today's standards, of over 114,000, attracted in part no doubt by Fouke's increasing fame.

His weight appears to have increased with his fame (and vice-versa) as he made impressive progress in the sporting world and from Sheffield Foulke moved to Chelsea for a fee of £20. He was quickly made captain and soon drew the attention of the crowd, developing an adoring fan base. Despite an ever expanding girth he was regarded as an outstanding goalkeeper with excellent agility for his size and in 1897 he won his first and only England cap playing against Wales in a 4-0 victory. His rapid progress was undoubtedly a result of his unique combination of weight and agility in an era when football favoured muscular forwards who could score by shoulder charging goalkeepers into the back of the net. Despite making a huge impression, after only one season Foulke moved to his final club Bradford City in 1898.

Fatty Foulke the cricketer
The ability to play two sports at senior level is rare and even in the early days of professionalism was not common place but for a brief period at the turn of the century William Foulke did just this. Whilst playing for Sheffield in the winter season he made four first class appearances for Derbyshire. His average score was 10.83 with his biggest innings being 53 against Essex at Leyton.

Fatty Foulke: fact, myth and legend
Fouke's talent as a crowd-pleaser brought an extra dimension to conventional football entertainment.
He became the darling of the crowd with a range of unusual skills and the various incidents which took place around him.
At clearances he was able to punch the ball over the half way line - a huge advantage which could rapidly turn defence into attack
He was an expert in saving penalties and was also known to charge upfield to the penalty spot
His love of eating was legendary and there are many stories of how he would often arrive early for breakfast, set out for the whole team, and scoff the lot
He was a colourful character and it is said that a forward who offended him was picked up and held upside down by his feet over the muddy pitch. He is also said to have sat on people who teased him until they apologised
During a match with Burton Albion FC he stopped two penalties and the forward who missed the penalties is said to have complained 'where else could I have placed the kicks – there was nowhere else to aim…'
Whilst playing against Accrington Stanley in February 1907, it is said that Fouke's jersey clashed with the red of Stanley and no-one could find a jersey large enough to fit him, so he played wrapped in a sheet, procured from a nearby house. Bradford won the game 1-0 and Foulke didn't dive during the match, so he kept a 'clean sheet'. It was during this game that he snapped a crossbar in two causing the match to be stopped.
To draw even more attention to his size, they placed two small boys behind his goal in an effort to distract the opposition even more. The boys would sometimes run and return the ball when it went out of play, and quite by accident, ball boys came into being.
At the end of the first match in the 1902 Cup Final Foulke protested to the officials that Southampton's equalizing goal should not have been allowed. Foulke left his dressing room unclothed and pursued the referee, who took refuge in a broom cupboard. Foulke had to be stopped by a group of F.A. officials from wrenching the cupboard door from its hinges to reach the hapless referee.
Sayings
The football chant "Who ate all the pies" is said to have originally been about Foulke, although this is generally accepted as an urban myth.
The one-liner "Call me anything you want, but don't call me late for dinner" has been attributed to him, but sources are unclear. In the Chelsea match programme 2nd Dec 1905: "Foulke says he doesn't care how much they charge him, so long as they don't charge him too much for his dinner."
An untimely end
Foulke died in 1916 and was buried in Burngreave cemetery, Sheffield. His death certificate gives "cirhossis" as the major cause of death. The stories of pneumonia caught whilst earning pin money at a "beat the goalie" booth on Blackpool Sands seem to be without foundation. He was aged 42.
Further reading and information:
Phythian, Graham (2005) Colossus, The true story of William Foulke, Tempus
1901 F.A. Cup Final – Tottenham v Sheffield Utd www.youtube.com