Memories of Clifford Blocksidge
Memories of Clifford Blocksidge aged 97 yrs
Recorded May 2009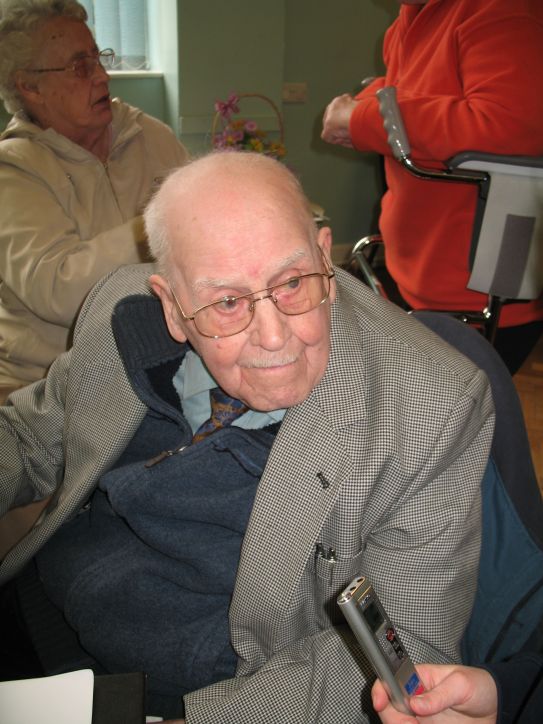 When I was a boy, the Town Hall was used as a cinema. You entered by thr front door and there was a pay box just inside then a flight of steps to the balcony or you could go through doors on the ground floor. The projector office for films was on the left. The lights were put out when the film was showing and lights were on when the reel of film had finished. A man would come from the basement with another reel of film. When the reel was fixed on the lights would go out and the film continued.
They also held stage plays at the Town Hall.
The current Wrekin Housing Trust office was Clayton's butcher's shop. The post office was like going through the front door of someone's house. Opposite the Crown Inn was a shop selling card and papers etc. Part of the shop was used by a Mr Weaver and next door was Johnson's the barbers. The lady there seemed to be always dressed in black. Arthur was the name of the barber who cut your hair.
The Market Hall had stalls in use and one was kept by Dickie Bold who lived in Finger Road by the White Horse Inn. He used to sell home-made treacle toffee.
Mr Lewis Price's office was next to the Market Hall. He had a belt-driven motorbike then a three wheeler motor car. Next was Jaundrel's butcher's shop and then Roberts sweet shop where you bought piklets (small sweet pancakes) from. Then there was B. Briscoe's vegetable shop. On the opposite side of the road where Dawley House stands now were three cottages. My Auntie Bessie lived in one and started a fish and chip shop later on.
There was Evans Drapers shop. Mr Evans looked after the Gents Department and Mr C. Evans looked after the Ladies Dept. Mother took me in and I remember having a cup of soup out of a bowl of soup placed on the counter. This must have been in World War 1. A lady kept a sweet shop next to Bailey Butcher's shop. She lived in Meadow Road and years later she donated her money to buy an ambulance for the use of Dawley people.
A gentleman lived in a house on the opposite side to Slaney Jones shop. He became very ill and straw was laid down on the road to deaden the sound of horse and carts passing by.
Mr Mills, painter and decorator lived at the side of the road to Paddock Mount. Next to this was the Blacksmith's shop.