Biography of Capt. Matthew Webb
By Malcolm Peel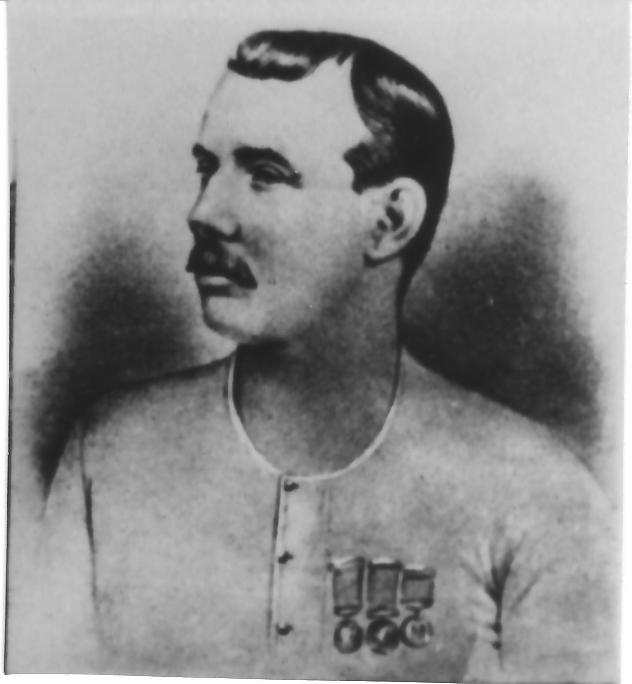 (© Courtesy of Ironbridge Gorge Museum Trust)
The first person to swim the English Channel, unaided, from England to France, was born in Dawley. It was, of course, Matthew Webb. He was born on 19th January 1848, in a house situated near the bottom of the High Street, at the rear of what is now the Supersavers Cash & Carry store at No's 57, 59, 61 and 63. He was the second son of Dr. Matthew Webb, a local surgeon, and his wife, Sarah Cartwright Webb. Dr. Webb and his wife eventually had fourteen children, two of which, Alfred and Frank, died when only a few weeks old. The family moved to Madeley when young Matthew was fourteen months old, where they lived in the High Street.
By 1856, the Webb family had moved to Eastfield House in Coalbrookdale, which was situated very close to the River Severn. It was a natural conclusion for him to learn to swim in the river and to become quite a proficient and strong swimmer, proving the fact by saving the life of his younger brother, Henry.

In 1860, at the age of twelve, he was apprenticed for two years, aboard the training vessel "Conway", with Rathbone Brothers, Shipping, in Liverpool, and again with the same company, he enlisted for a further three years apprenticeship aboard their Eastern cargo ships where he passed the examination as Second Mate.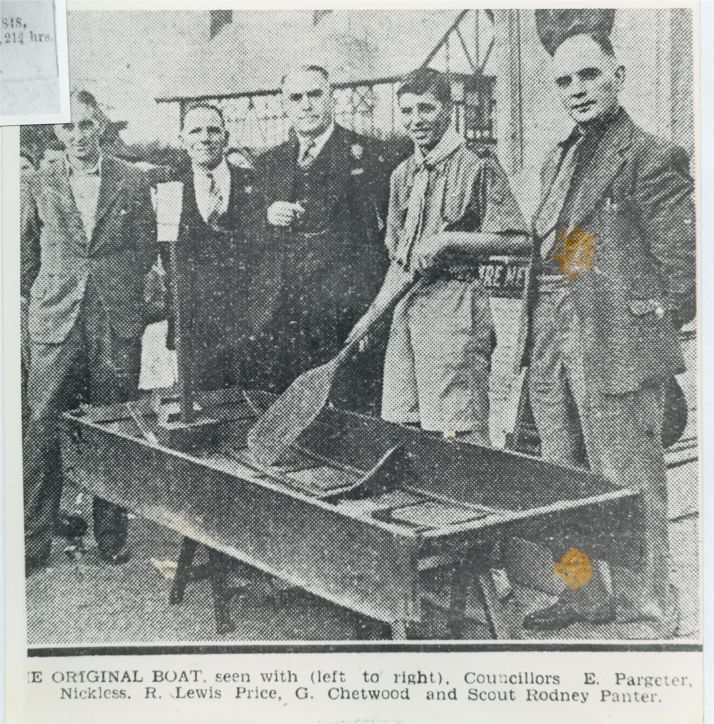 Between 1866 and 1875, Matthew served on seven ships; his last ship being the "Emerald", on which he was appointed Captain. During his service aboard the Cunard liner "Russia" in April 1873, he attempted to rescue a sailor who had fallen overboard. For this effort, he was awarded, by the Royal Humane Society, the "Stanhope Gold Medal" for bravery and a reward of £100. He was the first to receive this award.

He now concentrated on swimming, and in preparation for the Channel swim, in July 1875, he swam 20 miles in five hours, from Blackwall to Gravesend on the River Thames. He made an attempted on the Channel on August 12th 1875, but due to adverse weather conditions, it was abandoned after seven hours.

At 12•56pm on August 24th 1875, Matthew dived into the Channel from Admiralty pier in Dover, and, accompanied by the Lugger "Ann", and two small rowing boats, in one of which was his brother in law, George Ward. He began to swim breast stroke towards Calais. At 10•41 on the 25th he finally reached land near Calais, the first man to swim the English Channel. He had been in the water for a total of 21 hours and 45 minutes, and due to the changing tides, had covered a distance of 39 miles.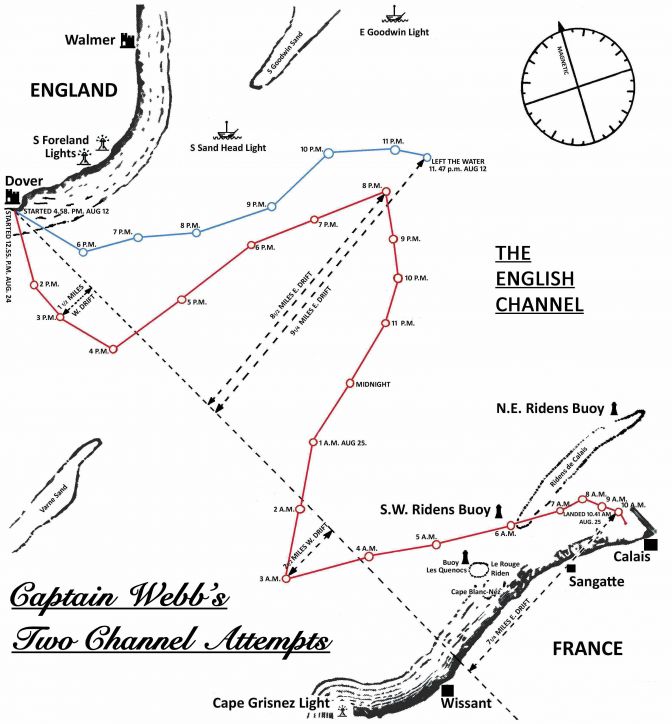 He returned to Shropshire, and to Dawley, to a hero's welcome. He had arrived at Wellington by train and was met by a large crowd and the band of the 7th Shropshire Rifles. So emotional was the crowd that they removed the horses from his carriage and pulled it themselves to Ironbridge where they were met by another band from the 6th Shropshire Rifle Corps, and an official welcome from the Mayor of Wenlock. After spending the night in Ironbridge, he was met the following morning by a deputation from Dawley who invited him to "receive the homage of the town of his birth". He was then conveyed to Dawley to receive another rapturous welcome, and to be paraded through the High Street.
It was these processions that formed the basis for the well known concocted postcard of the pig on the wall; supposedly placed there to watch the band go bye, by the landlord of the Crown public house in Little Dawley. The postcard was produced by the Baldwin Bros, a photographic firm from Dawley, to coincide with the unveiling of the monument in Dawley in 1909.

He was now a national hero and became quite wealthy from testimonial funds and large sums of money collected for him in Shropshire.

In May 1879, Matthew won the swimming Championship of England at Lambeth Baths, by competing with champions from other cities. He had covered a distance of 74 miles by swimming for fourteen hours a day over a period of six days. He was in demand for lectures and swimming exhibitions and it was not long before his achievements drew the attention of promoters who saw his money making potential. In September 1879, he competed for the Championship of the World against an American named Paul Boyton. Webb won but was accused of cheating and so the prize money was withheld.
On 27th April 1880, Matthew married Madeleine Kate Chaddock at St. Andrews Church in West Kensington. They were to have two children: a son named Matthew, who fought in France with the South African Forces during the First World War, but was killed in the Ypres Salient in 1917, and a daughter called Helen.
He continued with exhibitions, races and stunts, both in America and England, where he won substantial amounts of money, and it was in the winter of 1882 that he announced his intention to swim across the rapids at the base of the Niagara Falls.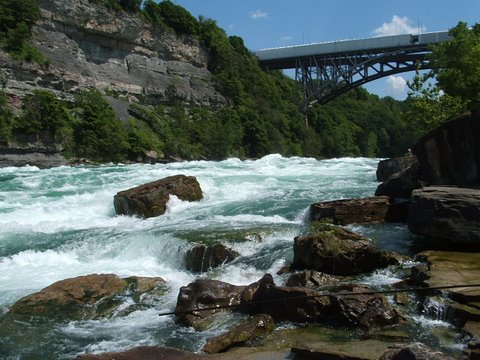 The point where Capt. Webb entered the water
(© Courtesy of Sue Poulson)
Matthew and his family arrived in America in June 1883. He had planned on making, what some people called the suicidal attempted on the rapids, on July 21st, but was unable to raise sponsorship for the swim, although there was a promise of $2,000. He was determined to prove his ability, and so on the 24th July, at 4•25pm he was rowed out to mid stream in a small ferryboat. He stripped down to the red trunks he had worn for the channel swim; the ferryman made one last attempt to dissuade him, but Webb only smiled and with a wave of his hand and a "goodbye boy", he jumped over the side of the ferryboat. At first, all went well but he was caught by a large wave, which lifted him up and caused him to cry out and to throw up his arm. He disappeared under water for about 40 metres; he reappeared but was sucked into the whirlpool never to be seen alive again. It was 4•35pm.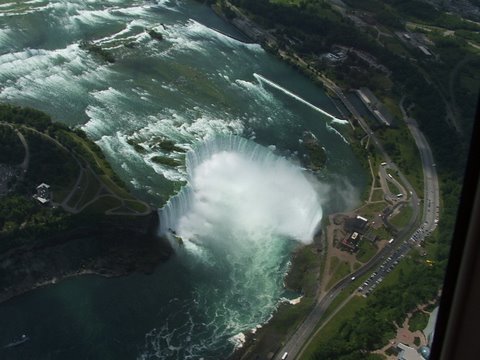 Whirlpool at bottom of falls
(© Courtesy of Sue Poulson)
His body was recovered four days later, along with the bodies of two Indians. Matthew had a large gash on his head, which led people to believe that he had struck his head on a submerged rock and lost consciousness, thus dying from drowning. The autopsy found that although he had a fractured skull, this, or drowning, was not the cause of death. He had died, due to the large weight of water he had encountered, paralyzing his nerve centres which prevented him from breathing or using his limbs.

He was temporarily buried in Oakwood Cemetery near Niagara, and later reburied in the same cemetery on 10th January 1884.The grave is surmounted with a Gothic Monument made from dark granite and bears the inscription:- Captain Matthew Webb. Born Jan. 19, 1848. Died July 24, 1883. His wife was to remarry and along with the two children, later resided in South Africa.
In 1909, due to public demand for a memorial, to Matthew, in Dawley; a committee was formed and with the help of public subscriptions, a drinking fountain was erected at the bottom of Dawley High Street. It was unveiled by his older brother, Thomas, on 23rd October 1909. It had taken only seventeen weeks from the first meeting in Dawley Town Hall in June to the unveiling in October. There was also a National Memorial to him in Dover which was unveiled on June 8th 1910.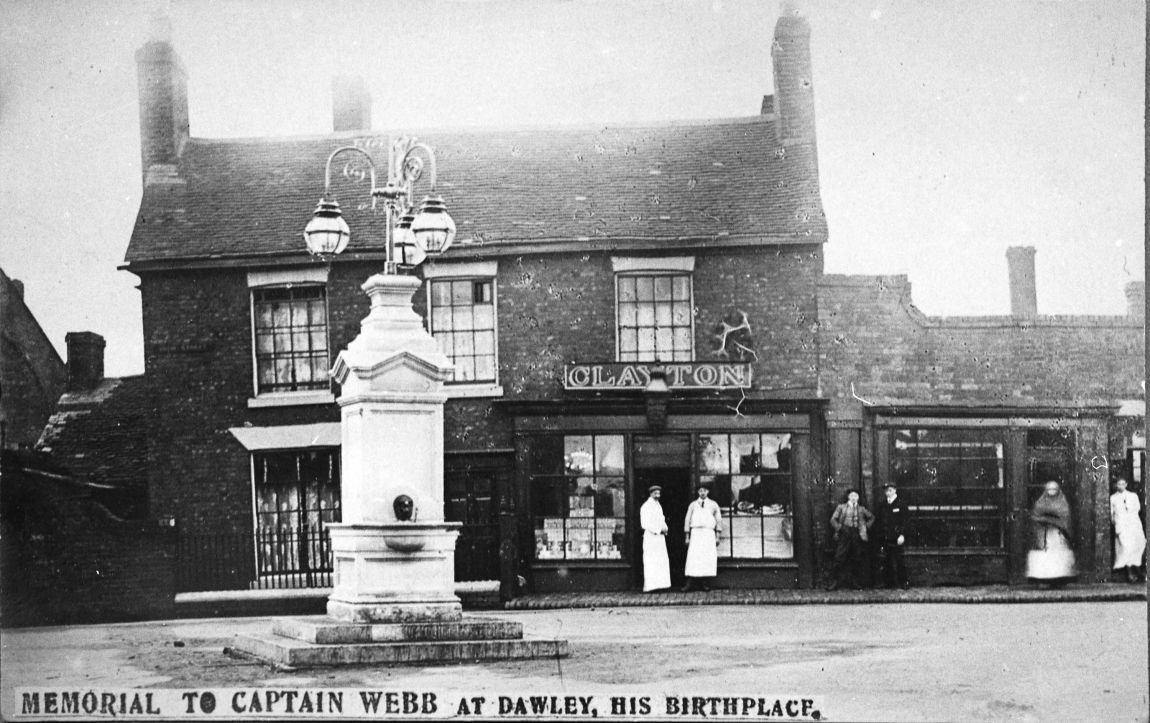 1909 Erection of the Captain Webb memorial (© Courtesy of IGMT)

Coincidentally, the chairman of the memorial committee, Dr. Frederick Howard Davis, claimed to have been born in the same house as Matthew, and that the house had been demolished to make way for four shops. By tracing his family in various censuses and tithe & apportionment records, we have been able to determine the approximate position of the Webb house, and that, we are convinced is behind what is now No's 57 to 63 High Street, Dawley.
Shropshire mining - Capt. Matthew Webb.
New York Times - Capt. Matthew Webb.