Biography of Edith Pargeter
Edith Pargeter – (Ellis Peters)
by Paul Wolfe
Early Years

Edith Pargeter was born on 28th September 1913, just before the start of World War 1 and was the youngest of three children. Her brother Ellis, from whom she was to take her name much later as a pseudonym, was born in 1907and her sister Margaret was born in 1911.


The family lived in a two bedroom terraced cottage in Horsehay, a small community a short distance from Dawley in the heart of the east Shropshire coalfield. The community was dominated by the Horsehay works formerly part of the Coalbrookdale Company set up by the Darby family in the mid 18 Century. Her father, Edmund Valentine Pargeter, worked as a clerk and timekeeper at the works and later her brother was to join the workforce becoming an engineer.
Edith's mother, also named Edith, was an important influence on her life and that of her brother and sister. This was a working class home with a vibrant sympathetic and encouraging atmosphere. They were a musical family and the children were encouraged to read from an early age. Edith's mother was quoted proudly as saying, "She (Edith) was always writing, right from a child". Edith wrote about her mother, "We had also the inestimable advantage that my mother was artistic, musical, interested in everything. She played the violin and sang, only in a family context, but her musical repertoire, ranged from folksong through music hall and Edwardian ballads, to grand opera".

(© Courtesy of Shropshire Archives)
Edith was baptised as Edith Mary Pargeter on October 31st at St.Luke's Church in Dawley Parva. It is now a private home but during Edith's early years this was the Church where the Pargeter family attended and the children went to Sunday school. Later Edith sang in the choir at St.Lukes as an alto
Edith attended school in Dawley, about one mile from her home, to the Dawley Church of England School .She walked to and from school four times each day . There was no provision for lunches at that time and in her book entitled, "Shropshire" Edith wrote about her walk at lunch time, "Twenty minutes roughly to get home, twenty minutes to eat, twenty minutes to get back to school, it just fitted. There was no time to linger on the road, except on the way home in the afternoon". While at school she was awarded several certificates and won first prize for the Wellington area NSPCA writing in a competition with an essay entitled "Kindness to Animals" .Edith wrote about her experience "The building was Victorian, with windows too high for the pupils to be distracted by peering out, and a block of lavatories across the yard. It had no central heating, but it did have fireplaces, and in winter fine hot fires, but shielded by iron fireguards. Outside the actual schoolyard but part of the permitted playground was another spoil heap, known as the Clay Mound ". Edith qualified in the written examinations for a free place to attend Coalbrookdale High School for Girls in 1924.It was at Coalbrookdale that her interest in composition, art and Latin was encouraged and became her lifetime passion.

Early Employment and the Second World War
Towards the end of her career at Coalbrookdale School she passed the Oxford local examination and a year later in 1931 the Oxford Higher examination. After leaving school she remained at home studying for the executive division of the Civil Service .The competition for places was great and although she did very well in the written English part of the exam she did less well in the mathematics. In her own words she "detested figures at school".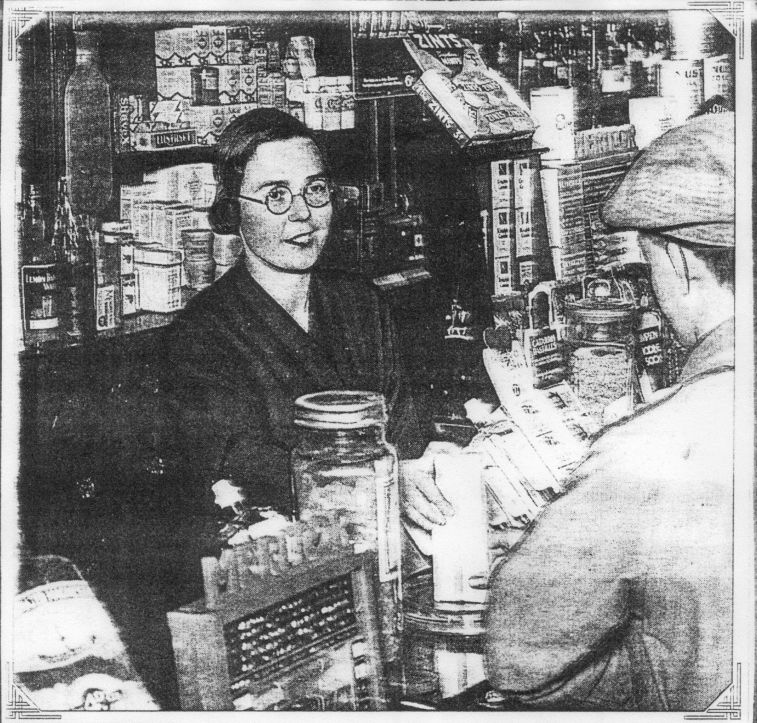 Edith found temporary work at the Women Labour exchange in the Potteries, but as the reporter in the Shrewsbury Chronicle reported, "the dust laden atmosphere so noxious to breathe after the clear air of Shropshire affected her health, and now she was not sorry to return to Dawley where she found a post with Mr. Bemrose as a chemist assistant and dispenser." She worked at Bemrose's the chemist in Dawley High Street for seven years (now Lloyds chemist 2010) until she joined the Women's Royal Naval Service in 1940. She had enjoyed this period of her life because it brought her into contact with a variety of people from the area and it was the time when her writing career took off and her first books were published. During this period Edith lived in a small terraced cottage in King Street close to the Library.
Edith had written her first book at the age of 15 while still at school which she sent to Heinemann the publishers. Her first novel to be published, "Hortensuis, Friend of Nero", was written before she was 20. Though first rejected it was published in 1936.This was the start of a sixty year writing career in which she had published over 70 books.

In 1940 Edith joined the WREN's based first at Devonport and later at Liverpool where the work involved supporting the ships in the Battle of the Atlantic, in which over 2,000 allied ships were lost. Edith achieved the rank of Petty Officer and was awarded the British Empire Medal in 1944. At the end of the war in 1945 she left the WREN' s and returned to her beloved Shropshire.

During the 11 year period between her first publication in 1936 and 1947 Edith wrote 14 books including a War time trilogy which raised her profile to a national level. Though she had used several different names as a writer it was not until 1959 that she first used the pseudonym ....Ellis Peters.

Post War and her love of Czechoslovakia
During this period, following her experience in the war Edith and her brother Ellis became involved and active in the Dawley branch of the Workers' Educational Association (WEA) and helped to establish the Shropshire Adult Education College at Attingham Park. (Owned now by the National Trust). They supported the work of Sir George Trevelyan in first establishing the college and helping to organise weekends, summer courses, concerts, plays and poetry readings.
Edith and her brother visited Czechoslovakia first in 1947 in a brief period between the end of the war and political changes brought about following the nation's incorporation within the Warsaw pact. Edith felt, as so many people did, that the politicians in this country before the war had let the people of Czechoslovakia down. What began as an interest and sympathy for the people was to become a lifetime interest in the culture, language and stories of the central European country. Over the next 21 years she visited many times. Having first taught herself Czechoslovakian, she translated into English and published a number of books. She was held in great respect by Czech writers and was awarded the Czechoslovak Society for International Relations gold medal and ribbon in 1968.This was to prove a traumatic time in Czech history when freedoms gained in the Prague Spring were destroyed by the Soviet invasion.Travel became impossible for Edith and her brother over the next few years.

George Felse and Brother Cadfael
Edith wrote a series of detective novels in which the central character was one George Felse. There were 13 of this series published but in 1977 Edith published the first of the Cadfael series which is the work with which she is most associated. The first was 'A Morbid Taste for Bones' which along with the following series was televised with Derek Jacobi in the role of Brother Cadfael. This became an extremely popular series with a strong American following. During her life Edith wrote other books about various topics including the factual history of Shropshire. She was a prolific writer and wrote and published over 70 books in her life.

Awards
Awards came late in life and apart from those already mentioned (British Empire Medal awarded in 1944 and the Czechoslovak Society for International Relations in 1968) Edith was awarded many for her writing. These included an Edgar in 1962 (after Edgar Alan Poe) by the Mystery writers of America. In 1980 the English Crime Writers awarded her the Silver Dagger which was later followed by the same organisation presenting her with the Diamond Dagger award in the House of Lords in 1993. In 1989 the Ellis Peters appreciation society was founded in America. A year later she was invited to join the Welsh Academy in recognition of her writing about Welsh history. This was followed by a Masters Degree from Birmingham University.

In the New Years Honours list of 1994, a year before her death, Edith was awarded an O.B.E. for her contribution to literature: a remarkable achievement for a woman born into a working class family, resident in Horsehay.

Final Chapter
Edith Pargeter died on October 14th 1995 following a fall and short illness. A memorial service was held at Shrewsbury Abbey where a memorial stained glass window to St. Benedict can be found above the entrance. Part of the window depicts an open book with a quill pen and the character Brother Cadfael whom Edith produced. From relative modest beginnings this prolific writer has left a legacy of books which have been translated into many languages. Her ashes were scattered at the crematorium in Shrewsbury with her brother Ellis. The Times newspaper published in an obituary the following comment 'A deeply sensitive and perceptive woman, an intensely private and modest person' whose writing was 'direct even a little stilted, matching a self contained personality'.
Memorial Window to St Benedict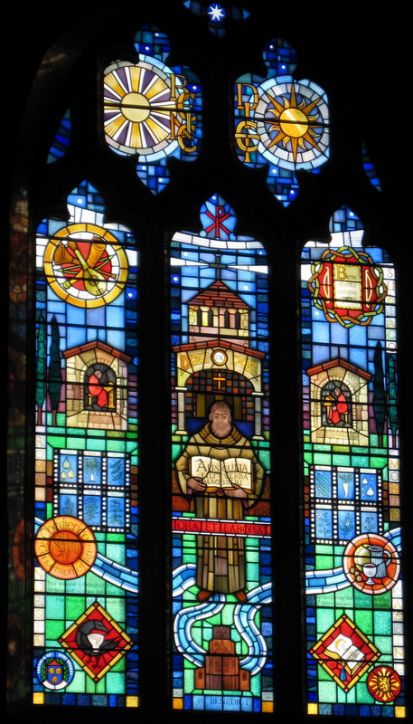 New York Times - Edih Pargeter.

Reference list:
Edith Pargeter: Ellis Peters by Margaret Lewis- Border Lines -1994.
Shropshire by Ellis Peters and Roy Morgan - Alan Sutton Publishing Ltd.-Headline Book Publishing 1992 and 1994.
Shrewsbury Chronicle: October 2nd and 9th 1936.
Dawley National School Log Book – Shropshire Archive
Great Dawley Parish Register of Baptism – Shropshire Archive.