Dawley High Street article by G. Egan
The History of Dawley High Street
By Gill Egan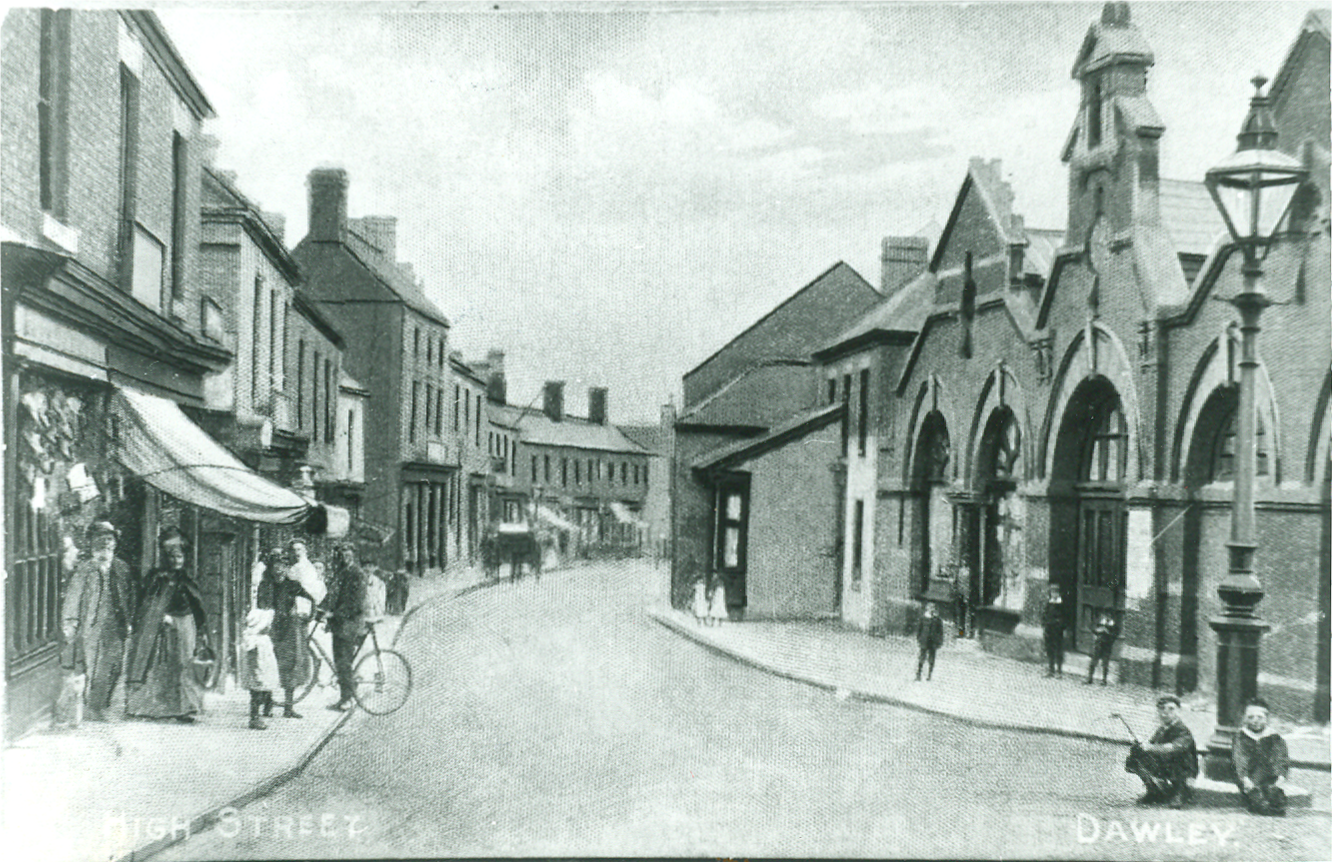 If we travel back in time, as far back as the 1700's, and asked for directions to the centre of Dawley we would be directed towards Holy Trinity Church. It wasn't until around the 1790's that the area around the Lord Hill Hotel, which was situated beside the Turnpike on the road from Wellington to Bridgnorth, became increasingly popular with commercial activities. This area became known as Dawley Green and by the mid 19th century had several shops, non conformist chapels, Inns and a Town Hall.
In 1819 the Dawley Green Wesleyan Methodist Chapel was built on the corner of two roads. These roads are now known as High Street and Chapel Street. This chapel was an unusual octagonal shape and was demolished and replaced in 1860 with a new Methodist chapel built by Robert Griffiths. Griffiths' chapel has been described as 'pretentious'. It was large and imposing with polychrome brickwork and a tower. In 1977/78 this chapel was demolished and a plain box-like structure, made out of red brick, and easily overlooked as being a 'chapel' was built to fit in with the designs of the new High Street layout. This building now serves as a pastoral centre.
The High Street, then known as Dawley Green lay at the heart of several industrial communities in the area. There was mining activity at Horsehay, Dawley Bank, Old Park, Dark Lane, Hinkshay and Dawley Magna and as the population grew steadily the areas around the High Street housed many families employed in the several coal, lime and iron and tile works and in connection with these the several branch railways. With increasing employment opportunities came increasing migration into the area and Dawley Green became a thriving local centre, bustling with activity. The hard working men and women (and in some cases, children) of Dawley needed some fun and games to let off steam and every year at the end of September the Dawley Wake was held. The tradesmen of Dawley subscribed to provide amusements and entertainment for the people of the area. There were performances and sports including hammer throwing and several forms of running races. Also recorded in Dawley in 1843 was horse racing taking place at Dawley Green. In previous years the 'Wakes' tended to involve blood sports such as cock fighting and bull baiting (Bull dogs). There was a bull ring located at Dawley Bank in the early 19th century but in 1835 bull baiting became illegal. The wakes became known as 'Pleasure Fairs' and by the latter half of the 19th century circuses regularly visited Dawley.
In 1849 Dawley was lit by Gas Lamps for the first time. By 1851 the population of Dawley was increasing steadily, there were by this time 9,201 inhabitants recorded, and it was somewhere between the censuses of 1851 and 1861 that Dawley Green became known as High Street, Dawley.
In 1856 a 'Library and Reading Room' was provided in the High Street for the people of Dawley. In 1870 it had become known as the 'Literary Institute' and by 1900 contained 3,000 volumes. Sadly this establishment closed around 1907 but in 1909 another 'Literary Institute' was recorded opening at Dawley Bank. Dawley was the only urban district to be served by the County Library Service which was established in 1925. In 1949 a full time, professionally staffed library opened within the former chapel, off High Street. Then in 1973 the library moved into a pre-fabricated building in King Street and is still there today.
By the 1860's Dawley High Street was a beehive of activity. Living and working in the High Street were hairdressers, wheelwrights, butchers, dressmakers, bootmakers, leathercutters, grocers, maltsters, ironmongers, booksellers, several beerhouses, shoe sellers, clock and watchmakers, an artist, linen and wool drapers, a chemist, a pork shop and a tailor, and for anyone caught breaking the law there was a 'lock-up' situated in King Street. Dawley's resident doctor was a Baronet. Sir Charles BH Soame, member of the college of surgeons, London.
Around 1863 Dawley began to hold an annual 'Livestock Fair', which was then held in the month of June every year. There was an increasing need for a Market Hall for the people of Dawley and this was built and completed in 1867 for the sale of meat, vegetables and provisions. It was an oblong structure of red brick with an ornamental frontage and vaults underneath, a turret containing one bell and a clock. The market hall was presented by Lieut. Col. William Kenyon-Slaney to the Urban District Council.
In 1873 Dawley was to have its own Town Hall. This was built in New Street which is just off High Street. It was originally built as a 'temperance hall' for the people of Dawley but over time this building has been used for a variety of reasons. In the 1920's the Town Hall was passed to the Dawley Urban District Council and was used for public meetings, dances and concerts. After the Second World War it was used for religious services by Roman Catholics and non-conformist groups.
By the 1870's the population of Dawley was at its highest and in 1875 one of Dawley's famous 'Sons' Captain Matthew Webb, who was born in Dawley in 1848, became the first person to swim across the English Channel to France.
1876 saw the very first non conformist Sunday school demonstration at Dawley, Dawley's Special Day as it became fondly known. All the Sunday Schools in the area joined together on this day to walk from their respective Sunday Schools which were divided into three sections, Lawley Bank, Horsehay and Little Dawley. Dawley High Street was festooned with garlands of evergreens and flowers which were suspended across the streets and flags of all sizes and colours were waved from the windows. What a glorious sight. The procession of teachers and scholars converged and assembled in the field at the corner of King Street and Meadow Road, Dawley and the roads approaching this field were filled with spectators, many of whom had come from Madeley, Ironbridge, Broseley, Coalbrookdale, Oakengates and Wellington. At 2pm the event began with speeches then afterwards there were various sports with money, sweets and toys being donated for prizes. The whole occasion was very much enjoyed by all the schools with some not dispersing until nearly nine o'clock. This event was continued every year on August Bank Holiday Monday for one hundred years.
1876 was also the year that Dawley became an Urban Sanitary District until it became an Urban District Council in 1894. The Council had its offices in the Market Hall until 1935 when it moved into a house in King Street.
In 1883 there was sad news for Dawley folk. Captain Matthew Webb's attempt to swim the rapids beneath Niagara Falls had failed and he was killed.
The first ten years of the New Century brought occasions of great cheer and celebration for the people of Dawley. In 1901 a public park and recreation ground was opened on a 2 acre site situated between Dawley National School and George Street. This piece of land was given to the town by WS Kenyon-Slaney and H Simpson. Over the years the park has continued to be improved. 1922 brought the addition of tennis courts and a bowling green and later years a boating lake (for remote controlled toy boats) golf putting green, a paddling pool and swings and slides. All sports equipment could be hired from the kiosk, where light refreshments were available for purchase and public toilets were also provided. Dawley Park was an invaluable asset to the Town and in constant use by adults and children alike.
Dawley even had its own football manufacturer, Walter Simmonds, who could be found in Chapel Street, just off the High Street.
Towards the end of the first decade Dawley High Street was the location for one of the town's proudest occasions. In 1909 a monument to commemorate the life of Captain Matthew Webb was erected in front of the Lord Hill Hotel. The monument, which was also a drinking fountain, and inscribed with the words 'Nothing Great Is Easy', was unveiled, to a crowd of in excess of 1,000 Dawley folk, by Captain Webb's brother Thomas. Over the years the monument was moved from its original position in front of the Lord Hill. At one time it was placed in front of the old library then it was moved again up to the Paddock Mount where Dawley Council had their offices. Eventually it was moved once again back to its original position and that is where it can be found today.
The 1920's was another exciting decade for the people of Dawley when a purpose built cinema was erected in Burton Street. This cinema was known as 'The Cosy'. In 1938 the 'Royal Cinema' was opened in King Street. The Cosy closed in 1956 and The Royal in 1961 but then it became used as a Bingo Hall and bingo was played there nightly in the 1980's. This old building, filled with Dawley peoples' memories of courtship and good fortune, was demolished in 2009 and a block of flats erected on the site.
In 1928 a 'Playhouse' was recorded in New Street but for whatever reason was short lived.
By the 1930's Dawley High Street was still a thriving and prosperous centre of Dawley life. On visiting the High Street you would find an array of retail businesses including green grocers, electrical stores, opticians, ironmongers, fishmongers, a cafe, cycle shop, fish and chip shops, newsagents, drapers, furniture shop, china goods, hairdressers, leather goods, a bank, clock repairer, gents outfitters, chemists, shoe shop, confectioners, cheese shop, wool shop and several butchers and grocers shops, not forgetting Dawley High Streets public houses, The Elephant and Castle, The Talbot, The Crown and at the bottom end The Lord Hill.
The 1960's brought with it many changes for Dawley High Street. By 1963 Dawley had its own newspaper 'The Dawley Observer' this newspaper was founded by a young journalist on the designation of the 'New Town'. It was published from a terraced house in Chapel Street. In 1968 the name of the newspaper was changed to the 'Telford Observer' and appeared weekly until 1972.
On Friday 22nd January 1965 the front page headlines of the 'Dawley Observer' read 'THIS IS IT' above a map of 'Dawley New Town' and a list of plans for the new town.
The whole of the ancient parish was to become Telford. Telford Development Corporation compulsory purchased many properties and several acres of land from the residents of Dawley. A by-pass road was built around Dawley High Street so that traffic would no longer pass through and it became pedestrianised.
A visit to the High Street in 2006 would find a food and wine store, supermarket, tanning salon, hairdressers, Tandoori restaurant, rod and gun shop, fish and chip shop, Lloyds Bank, pet shop, launderette, solicitors, railway models shop, optician, cafe, estate agents, fast food takeaway, domestic appliance shop, betting shops, wedding boutique, bakery, lettings agency, fancy dress hire shop, fruit machine arcade, Chinese takeaway, charity shops and a florists.
The year is 2010 and the residents of Dawley await in anticipation the proposed 'Regeneration of Dawley'. Plans have been submitted, the High Street is to be revamped with new retail outlets along with other improvements to the surrounding area, new housing and construction of a brand new sports and learning community.
Over the centuries, through all the changes, there have been families arriving from far afield, living their lives and bringing up their children in Dawley along-side generations of families who have only ever lived in Dawley and can be traced back to the area over several hundred years. The Ghosts of Dawley Green will always be present....whatever the future holds for Dawley High Street.

References:
A History of the County of Shropshire Vol 11: Telford accessed via British History Online
Wellington Journal, report of the first Demonstration held in 1876 taken from the book
Finch, I. Dawley's Special Day
The Census of 1861
B. Trinder, (1973), 'The Industrial Revolution', Chichester, Phillimore
A plan of Dawley High St. 1937 and 2006 provided by Dawley History Group.
Dawley Observer 22 January 1965