Biography of Samuel Parkes Cadman
Biography of Rev. Dr. Samuel Parkes Cadman DDL:
The local lad who became one of the first radio preachers
by John Churm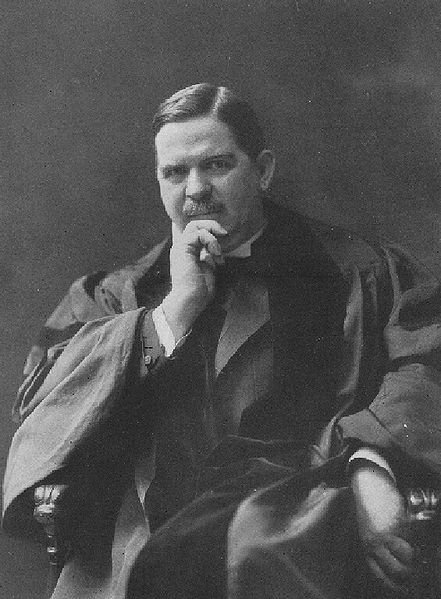 Growing up in a Methodist family, I had always heard the name of Samuel Parkes Cadman. My great grandfather, Poyner Bray, was a Sunday School teacher at Lawley Bank Wesleyan Methodist Chapel. They were of the same generation and as young people attended the chapel.

Samuel Parkes Cadman was born December 18th 1864 in the Parish of Wellington to Samuel Cadman, a miner, and Betsey Cadman (Nee Parkes). He was baptised at Ketley Brook Primitive Methodist Chapel. It is believed he spent some time living with an aunt and uncle on Ketley Bank, but his family moved to Coppice Cottages, Old Park when he was a child and he went to Sunday School there. It was there that he was influenced by William Owen, the 'Bishop of Old Park' and in 1922 Parkes Cadman wrote Owen's biography.
His family were all ardent Methodists. His father and grandfather were reputedly "hell fire Methodist preachers." Both his father and grandfather regularly walked to chapels such as Prees Heath to preach, a distance of fifty miles there and back. In later years Parkes Cadman gave the Prees Green Chapel an oak pulpit and Communion table in memory of his grandfather and father.
His father's brothers were all active in Methodism as was his younger brother William Cadman. He, like Samuel's uncle Isaac and Samuel himself, became a Methodist Minister in the USA.
From aged eleven, Samuel started work as a 'pony boy' and while waiting for his tub to be unloaded, he would be reading his bible. During lunch breaks he would hold sermons at the pit. He worked both at Little Hays and Woodhouse pits located between Ketley Bank and Priorslee.
At the age of sixteen, he attended Wrekin College in the 'Mutual Improvers' class under the direction of Sir John Bayley, College founder, who helped him improve both his written English and his ability to express his thoughts. Bayley frequently commended Samuel in the Headmaster's log book for meritorious work. Both headmaster and pupil were from poor backgrounds who through hard work achieved great things in their lives.
A service given by Reverend J.M. Pascoes at Dawley Wesleyan Methodist Chapel inspired Samuel at the age of sixteen to become a Methodist Minister. In the meantime he joined the Lawley Bank Methodist Chapel and became a Sunday School teacher there. He spent ten years as a miner, while at the same time honing his public speaking skills as a lay preacher at the local Methodist chapels. At the age of twenty one Samuel was recommended as a candidate for the Wesleyan Ministry by Lawley Bank Church and the Wellington Circuit. The next stage of his life took him to the Wesleyan Theological College at Richmond in Surry, sponsored by Sir John Bayley who had noted his early potential. Whilst there, his tutor is quoted as saying that Samuel, "was the man who showed the greatest promise". Bishop J.F. Hurst on a visit to the college from America was introduced to Parkes Cadman at this time and told him that if he were ever to go to America, that he would find Parkes Cadman a church.
Samuel went on to complete his studies at Wesley College in Bristol to become a Methodist Minister. He had an interest in US history and affairs, particularly as his uncle Isaac along with other young men from the Ketley and Dawley area had already emigrated to the USA to become Methodist Ministers.
Parkes Cadman wanted to marry his childhood sweetheart, Lillian Esther Wooding, who had attended Lawley Bank Chapel with him. She too had family connections in the States. As Parkes Cadman had been left with debts from his time in training, America seemed the ideal solution for his future career. It was usual for Methodist Ministers to do three years' probation before being allowed to marry in Britain. His debt, and the potential 3 year wait in England if he was to practice his Ministry in this country, aided his decision to take up the offer of preaching in the USA.
In 1888 he married Esther and they were to have three children during their married life: Frederick, Marie and Lillian. In 1890 he emigrated on his own to America with his passage being paid for by miners from Old Park & Lawley. He planned for his family to join him when he could afford it. Dr Richard H. Travis, the presiding elder for the Poughkeepsie District of upstate New York, offered Parkes Cadman a small Methodist Church in Millbrook, New York, as well as Verbank Methodist Church three miles away. He started preaching at Millbrook to about one hundred and fifty people. The church authorities had difficulty raising the sum of £120 a year required for his salary, but the salary was supplemented with presents of pork, potatoes and turkeys; one famer made him a gift of a load of hay! As there was no vicarage, Parkes Cadman spent his first year in lodgings. In the meantime, his popular oratorical skills meant that he soon grew his number of parishioners. Doing much of the work himself, he persuaded the members of the church to support the building of a new parsonage and in 1991 he returned to England to collect his wife and children to start a new life with him in the States. Sailing with them was also William L. Cadman, his younger brother. It was also in this year that Parkes Cadman started to make a name for himself writing for the New York Ledger.
S. Parkes Cadman, as he liked to be known, grew his congregation year on year. In 1892 he was offered a salary of $994 because his congregation had risen. Then in spring 1893 his salary was increased to $1,905. In the summer of 1893 he took up a position at the Central Methodist Church in Yonkers, New York and his rising fame for his oratory skills meant that his new congregation expanded dramatically.
In 1895 he became pastor at the Metropolitan Methodist Church on Seventh Avenue between Thirteenth and Fourteenth Streets in New York City. Here his oratory skills attracted large crowds from the cosmopolitan population of New York. The Church prospered and so did he.
He was made a Doctor of Divinity by Syracuse University in 1898 and Doctor of Laws (LL.D) there in 1922, as well as receiving other honoury university appointments such as Doctor of Divinity (D.D) from the prestigious University of Yale in 1925. He became the youngest member to be elected to the General Methodist Conference.
In 1901, whilst remaining a Methodist Minister, he was elected Minister of the Central Congregational Church in Brooklyn, New York with its roll of 3,000 members, a post he held for the rest of his life. Between 1924 and 1928 he became President of the American Council of the Churches of Christ.
However, it was in 1923 that S. Parkes Cadman, as he liked to be known, became a pioneer of the then new medium of radio broadcasting. This new career move, his powerful voice and complete confidence in his message attracted an increasing wireless audience totalling over 30 million people. In 1926 he had begun writing a daily newspaper column for the New York Herald Tribune. This was syndicated nationwide as "Dr Cadman's Daily Column". Here he answered readers' questions and gave advice. His articles were reproduced in more than one thousand newspapers. He also built up his reputation as a writer. He became the author of many books on life from a Christian perspective including Charles Darwin and Other English Thinkers (1911); The Three Religious Leaders of Oxford: John Wycliffe, John Wesley and John Henry Newman (1916); Ambassadors of God (1920) and Imagination and Religion (1926) as well as writing his autobiography in 1910.
Despite his fame and wealth, he never forgot his roots. He made a yearly visit to England to see as many family members and friends as he could. He would be much in demand each summer at local chapels throughout the area. He would always draw large crowds wherever he preached. On one visit in 1899 he gave a lecture at the Primitive Methodist Chapel in Dark Lane for which he charged 15 shillings, it was thought for his expenses. The chapel received £4-17s-0d for the tickets they sold. On another visit he laid a commemorative foundation stone for the new Methodist Sunday School at Lawley Bank, which can still be seen today. It was through his generosity that the new Lawley Bank Sunday School was erected at the cost of £1,600.
It was said that when he was invited to give a sermon at the Bethesda Primitive Methodist Chapel in Old Park, there were so many people there that he chose to give his sermon from a cart in the field opposite the chapel. On his last visit in 1935 to Shropshire he was guest of honour to dedicate the Ketley Playing Field gates.
Parkes Cadman was taken ill suddenly with acute appendicitis on the 5th July 1936 in Westport, upstate New York a week before his proposed trip to England on the Queen Mary. Despite feeling ill, he carried out both a morning engagement and an evening service, but was taken into hospital directly after the service. He died a few days later on the 12 July. His body was taken to Brooklyn, New York by train for his funeral service in the Central Congregational Church where he had been Pastor. He was temporarily buried in a crypt at Kensico Cemetery mausoleum, Valhalla, Westchester, New York before being permanently buried at this cemetery in a family plot 1938. There is a memorial plaque to him and his family at the cemetery in Red Lake.
Thanks to John Lenton, local Methodist Archivist, Brian Pitchford, Doug Wright,,Chris Wright & Dave Howells for information provided