Biography of Michael Lowe, CBE., DL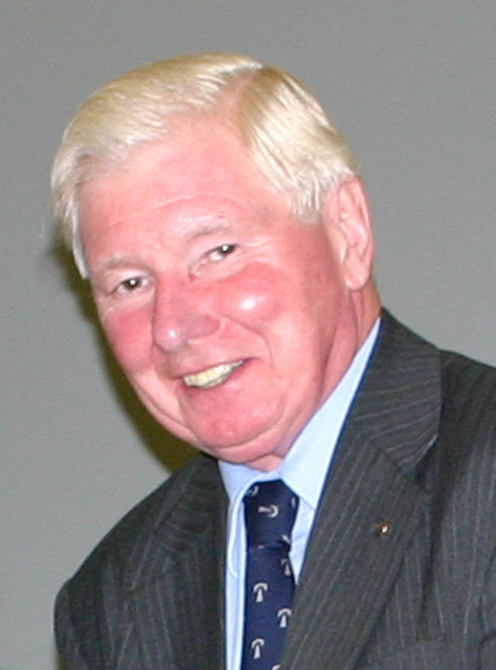 The first time I met Michael Lowe was in 2007. In front of me stood a well groomed, 'dapper' man. He had a full head of silver grey hair and a beaming smile. It was hard to believe that this man was as old as 72 years.

It soon became apparent that this was a man who had led a very rich and fruitful life. He was a man of many passions who had a zest for living, a sharp mind and great warmth. These days, he has scaled down his activities. He does some auditing and oversees his company. He enjoys giving much of his time to many worthy causes. Many of these directly affect the people of Shropshire and Telford in particular. Indeed, the people of Dawley benefit directly from a variety of his voluntary activities. He is a great guy to lead any team. If he has a vision, he is driven to find ways to bring that vision to reality. He demonstrates a real passion for his favoured sports and has been a great sporting ambassador. This competitive spirit, fostered through sports, has definitely benefited Michael in other aspects of his life. It has provided the drive to deliver: he will persist until he succeeds.
Michael was born in Wolverhampton on the 6th January 1936. His parents came from St Georges and Ketley Bank. They married and moved to Wolverhampton. His father had worked there in engineering. In the late 1940s with money his wife had saved, Michael's father started his own foundry business. This became a real family enterprise. All members had a role within it. At first the family could see the business start to thrive, but then problems started to occur with the company. This caused family stresses. Life became very difficult. In 1953, when Michael was seventeen, his mother decided that she could no longer cope with the marriage. She left, taking Michael with her, later getting divorced. They returned to live with his maternal grandmother in Ketley. Michael's biggest regret in life is that he lost contact with his father.
Michael did well at school. After achieving his 'O' levels, he expected to take his 'A' levels and eventually attend university. However, these plans had to change with the break-up of his family. His school Career's Master suggested that Michael became an accountant. When he returned to Shropshire, he became an Articled Clerk with Howard (Bob) Tranter at his firm of Chartered Accountants in Oakengates.
Michael then embarked on a successful career in accountancy. After qualifying as a Chartered Accountant in 1960, he worked for six months with the DuPort Group as the Assistant Financial Controller. At the same time he continued to work for Bob Tranter at weekends. He left his new job, interestingly, because he felt that there was not enough pressure! He returned to work for Bob Tranter full time. In 1962, in recognition of his ability, he was offered a full partnership in the company. As Dawley had just been designated a New Town, Michael was given his own office there. He became the senior partner in the company in 1982. The firm became one of the largest in Shropshire and had contracts with many companies nationally and internationally.
Michael was talented at many sports. Throughout his life he combined participation in sporting activities with effective voluntary roles for his chosen sports. Michael's father took him to see his first football match at the Molineux stadium. This visit was the start of a lifelong love of football and a passion for Wolverhampton Wanderers Football Club. This passion remains as strong today as it was in his youth. His actual involvement with the club came via Jack Harris who was both a client and friend. Like Michael, he held a passion for Wolves F.C. When he became a Director of Wolves, he involved his friend in the club. Michael became both its accountant and a Director. With Michael's help, Wolves were brought out of receivership in 1986. Indeed Michael's passion for the club led to him becoming its acting Chairman for 8 weeks back in 1988.
It was Bob Tranter who introduced Michael to another of his many sporting hobbies and the one he most excelled at: hockey. Bob played in goal in the first team for Shifnal Hockey Club. Michael was invited to join the club in 1953. He is naturally left handed and initially found holding the hockey stick difficult, so they suggested he play in goal. This gave him a great advantage being left footed as well – very few balls could get past him! This was the start of a long and successful career in the sport. Bob Tranter retired as the Shropshire Goal Keeper and Michael took over the mantle from him. Between them, they notched up 50 years in service as goalkeepers for the county. In 1972 Michael became the first player to represent the County on one hundred occasions. At the age of 46, he retired from County Hockey, having made a record 203 appearances and was the Captain of the County side for 10 years. He was Chairman of Shropshire County Hockey Association for ten years, President for 10 years and in 1998 was made the Life Patron for his services to the County. He was selected for the Midlands team in 1969 and in 1970 became an England trialist. In addition, he also served on the England Hockey Management Committee for a number of years.
Michael captained the Shifnal (later Telford & Shifnal) Hockey Club for 12 years, and under his captaincy they became Midland champions three years running from 1969-1971. He was Chairman of Telford & Wrekin Hockey Club for twenty years and then became their President. With his accountancy background, it was not surprising to hear that Michael held the post of Treasurer of the Midland Counties Hockey Association for 24 years until 2001 and he was made a Life Vice-President in 1977.
In 1967 he was elected as the Shropshire representative to the Midlands Counties Hockey Association. Members complained that the media did not cover the sport. To overcome this hurdle, Michael wanted competitions to be introduced. As a result, in 1968 the new Association President asked Michael to establish a group to organise competitions. The successful Midlands Hockey League was born in September 1968 and he became its first Secretary and its first Treasurer, a position he held for 32 years from 1969-2001. In 1982-83 he became the first Shropshire person to become the MCHA President. Midlands Hockey League was the first official league in the UK and proved so successful that eventually a National League was formed.
From 1982 to 1993 he served on the English Hockey Management Committee. This was a very successful period for British Hockey: Olympic Bronze medal in 1984; losing finalists to Germany in the 1986 World Cup; European Silver medallists in 1987 and the Olympic Gold in 1988. In 1993 Michael retired from the committee and was made Life Vice President in recognition of his services to English Hockey.
Michael took up another of his preferred sports at secondary school: tennis. He became quite a good tennis player and when he moved to Ketley he joined St Georges Tennis Club. He played in the men's team and they were in the second division for a time. He became its Treasurer in 1954 and later its Chairman. His first fundraising endeavour took place at the club when he became involved in raising £300 in 1954/5 to tarmac the two tennis courts. In 2002 he became the Chairman of the St Georges Ground Development Committee which raised funds to create a new floodlit Astro-turf facility at St Georges. This proved to be a highly successful venture in that it encouraged young people's interest in the sport. He continued his association as Deputy Chairman of the St Georges Recreation Ground.
In addition to his football hockey and tennis interests, he played squash for a number of years. He represented both Shifnal and Ketley in the Midlands and Shropshire Leagues. He was the team Secretary of Ketley Squash Club for five years. In later years Michael started playing golf. He played at Shifnal and Chesterton Valley Golf Clubs and was on the management committees and represented St Georges in the County League for tennis for many years.
Michael's voluntary and charitable work spanned more than half a century. When asked who had most influenced his life, Michael's reply was 'Bob Tranter'. It was Bob who encouraged him to do charity work. This started in 1962. Dawley Chamber of Commerce was established and Michael became its founding Secretary. After Telford new town was established, Dawley Chamber of Commerce became Telford Chamber of Commerce in 1969 and subsequently Shropshire Chamber of Industry and Commerce. Michael continued in his role as Secretary, which was run through his office at Tranter Lowe. In 1983 the Chamber moved to offices in the Town Centre. Michael was subsequently invited in 1984 to become the Deputy President. He became the President from 1985 to 1988. He then continued to serve on the Council of the Chamber.
When in 1989 Training and Enterprise Councils were established, Michael played an instrumental role in their success locally and nationally. He became Chairman of the Shropshire Training & Enterprise Council Board in 1992. The council always achieved its targets and was one of the leaders in the whole movement. During this time Michael continued to serve on the Council of the Chamber of Commerce. It was having difficulties because of the economic recession. It was agreed, that where appropriate, Training & Enterprise Councils and Chambers of Commerce should be allowed to combine if they both thought it was in the best interests of their area. In Shropshire in 1996 the two organisations combined becoming the Shropshire Chamber of Commerce, Training & Enterprise. His tact and diplomacy as well as a steely determination to see projects come to fruition saw him preside over this organisation which expanded rapidly. For a time it was one of the three fastest growing Chambers in the UK. Its members employed 65% of the working population of Shropshire. Michael continued as President of this Organisation until 2002. After this time the Learning & Skills Councils took over some of the of the Training & Enterprise activities.
During his ten years of Chairmanship of this business organisation, Michael also found time to become Chairman of the West Midlands Group of TECs from 1994 to 1996. He served on the Training and Enterprise National Council Committee on Education and Training from 1996 until 1999. He was a member of the West Midlands Regional Further Education Funding Council from 1993 until 1999. Locally, he became Chairman of the group which established Shropshire Business Link and first Chairman of this company from 1993 until 1996.
From the 1990s onwards he became involved in the educational sphere. He sat on the Steering Committee which established the University of Wolverhampton in Shropshire. He was also Chairman of the Shropshire Careers Service from 1996-1998 and 2000- 2002. During this time it became the Connexions service. He was appointed Chairman of Cnnexions4Youth in 2006.
A past governor of New College, Wellington, in 1976 Michael became a governor of Telford College of Arts & Technology. He became both Chairman of the Board and Chairman of the Finance and General Purposes Committee, posts he held since 1998. During this time TCAT became one of the best, if not the best, college in the country having won more Beacon Awards for Excellence than any other college. The College grew fast and became one of the largest FE colleges in the country. In the 2006 inspection Ofsted declared that the College had achieved Grade 1 Outstanding achievement in every single category. This was the first time any FE college had achieved such a report and as a result it also achieved in November 2007 the prestigious Queen's Award for "delivering economically important skills on employers' premises": It came first in the UK for 'Train to Gain'. This was the only honour left for it to achieve.
Michael was singled out for all his outstanding 'service to education, training and business support' by being awarded a CBE in the 2001 New Years Honours List.
Michael was served as a Justice of the Peace for over 30 years. He also sat for six years on the Advisory Committee to the Lord Chancellor. He stepped down as a Magistrate to become the High Sheriff of Shropshire for 2005-06. During the 12 months that he held this position he attended over 300 various functions and events across the County of Shropshire.
On becoming the High Sheriff, he decided that he would like to introduce High Sheriff Citizenship Awards in to all the schools throughout Shropshire. The awards were for young people who had done outstanding work in their Communities. The project was extremely well received. At the end of his year some 40 outstanding young people from schools across the County received awards. These High Sheriff awards continued to be issued through the Community Foundation for Shropshire with Telford College. Michael was the chairman of this organisation.
1963 saw Michael become the Secretary to The Anstice Club in Madeley, one of the oldest working men's clubs in the UK. With over 45 years of service to the club, he must also be one of the longest serving secretaries for working men's clubs! During this period several hundred thousand pounds were generated by the Club and extensive work carried out on this historic building.
Ironbridge Gorge Museum Trust has been a significant interest for Michael since 1967 when he became involved in its establishment, firstly as its Honorary Auditor then as its Treasurer in 1979. After a major reorganisation, he became Chairman of the Finance and General Purposes Committee during which time the Museum underwent a carefully controlled expansion. He was invited to become Chairman of the Board in 1987 and during his Chairmanship the Museum Trust achieved World Heritage status and became one of the largest independent museums in the UK. In 2002 he was appointed President of the Trust.
Michael became a Trustee to the Severn Hospice in 2001. He took up the role of Chairman of the Finance and General Purposes Committee. He had agreed previously to become Chairman of the Severn Hospice Fund Raising Committee. It raised £5million for the construction of the new Hospice which was to be built in Telford in 2007.
In addition to theses voluntary activities, Michael also found time to be President of the Rotary Club for Ironbidge; Chairman of the Board of Telford FM Radio; Chairman of Maxell Educational Trust; President of the Shropshire Society in London; President of the Shropshire Male Voice Choir. In 2002, he was appointed to the role of Deputy Lord Lieutenant for Shropshire. This role was to support the Lord Lieutenant for Shropshire Algernon Heber-Percy and to deputise for him when requested by him to do so.
Nowadays, Michael does a small amount of accountancy work; he is still involved in auditing, as well as overseeing a number of jobs, and does quite a lot of charity accounting as well. Much of his spare time when not playing sport is taken up with his charitable and voluntary interests which are numerous. He says that it is good discipline for him to get up in the morning and go to the office. I think this tells us a lot about the man and what drives him.
In 2006 Dawley Regeneration Partnership formed to regenerate the centre of Dawley and he was invited to become its Chairman. He accepted, having worked in the town for over 40 years, Michael had a real fondness for the place and the people. Whilst in this role, Michael has been eager to take a lead in re-establishing a Traders Association for Dawley. He wants to see it re-establish itself as a thriving community once more. His ambition for Dawley is to return Dawley High Street to a safe environment after dark where you can stop and look in a shop window without fear of crime or violence and to have built an Olympic sized pool for Dawley. Mathew Webb was the first man to swim the English Channel unaided, and if there is going to be an Olympic sized pool in this part of the west midlands, and then he strongly believes it should be in Dawley!
When asked for what he would most like to be remembered, Michael said that it was when, as High Sheriff of Shropshire, he was able to introduce Citizenship Awards to recognise the good that is done by young people in Shropshire. Michael feels passionately the need to have the people of Shropshire focusing positively on our young people and their achievements in all areas. This is what is most important to him. It also reveals much about the man who is Michael Lowe, a man who has devoted his life to voluntary service for Shropshire, Telford and indeed Dawley!