Biography of George Chetwood
George Chetwood. A Short Biographical Sketch
by Mark Chetwood MIScT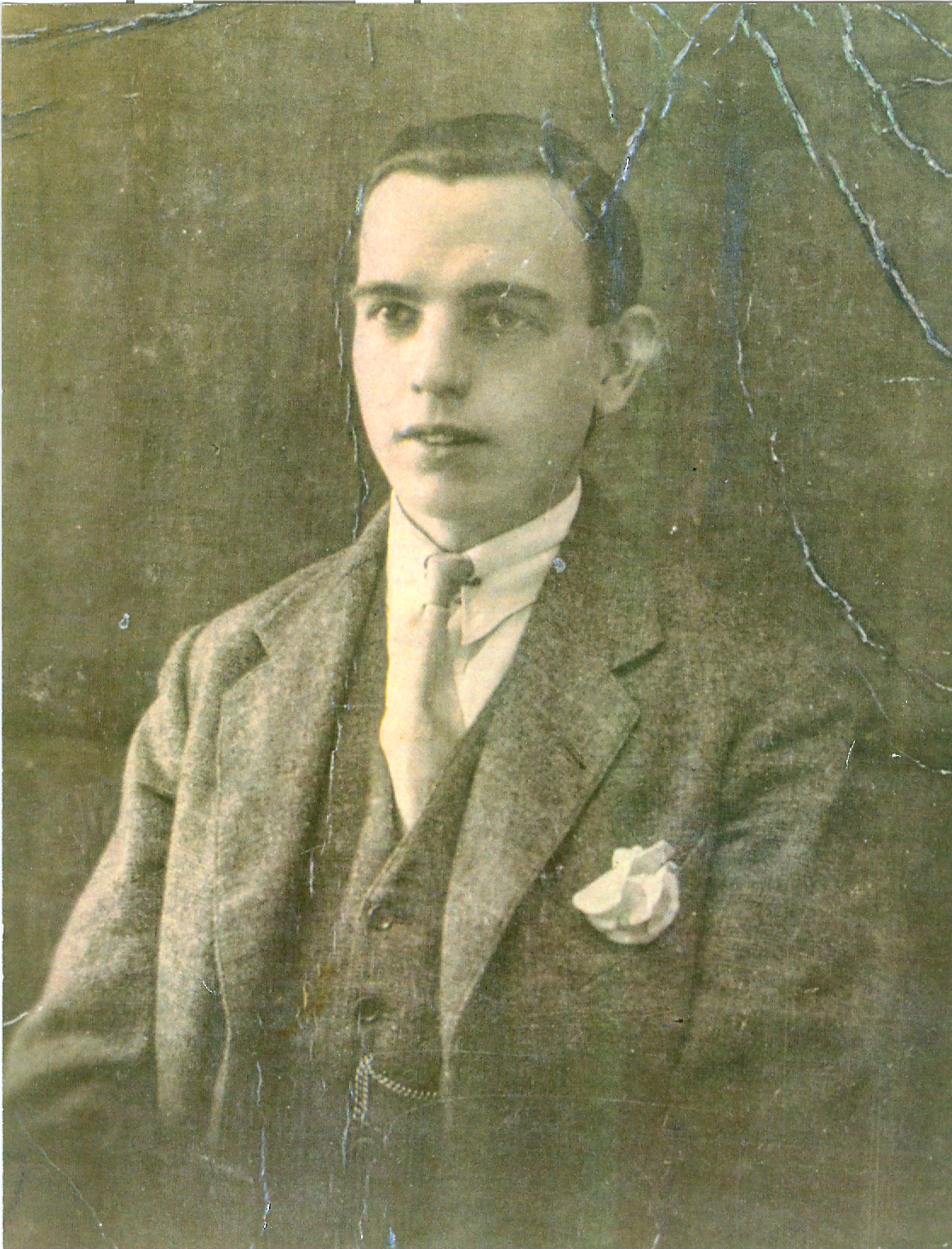 (© Courtesy of M. Chetwood)
George Chetwood was the second child of George and Emma Chetwood (nee Fellows). He was born at Ladies Row in Hinkshay Village on 22nd February 1903 and was subsequently baptised at Holy Trinity Church, Dawley on the 26th March 1903. At home he was seldom called George and went as John or Johnny and in later life, by his grandchildren, he was never called anything other than Granddad Jack. George was admitted to Langley School on the 30th August 1909 having moved up from the infants, where he was described by his head teacher, Mrs. Elsie Day, as a member of her "talented family." She was proved correct in her belief when George left Langley on the 16th September 1915 to "take an exhibition" at Newport Grammar School gaining one of the few scholarships offered that year. In later life George recalled that he had to cycle from Hinkshay to Newport and back every day in every kind of weather. He mostly enjoyed his time there except for French lessons which he intensely disliked not least because the teacher had the nasty knack of twisting the boys' ears if they mixed up their verb endings! George must often have been on the receiving end of such treatment and admitted that he would play truant, cycling to his Aunt Polly's house which was quite near to the school.
George subsequently matriculated, qualifying to join the Royal Flying Corp a short time after the Great War. He happened to be under age at the time and parental permission was refused because his mother had other plans for him. She had actually used her influence to gain him a position as a clerk in a local manufactory which she believed offered far safer career prospects than flying machines stitched together from canvas and string!. With his own plans in ruins, George in characteristically headstrong fashion tore up his newly acquired qualifications saying if he could not fly, he certainly would not work in an office. With that he found himself a job as an apprentice moulder at the Horsehay Company remaining there until 1921 and drawing a wage of 18s.2d.(about 90 pence). His mother, equally headstrong would still not allow him to fly and was left extremely upset by his decision, to her mind, of throwing away a good education especially after she and his father had suffered financial hardship in order to support him through grammar school. By 1921 George had moved to Clays Foundry at Ketley.
During his formative years George witnessed great hardship within the largely industrial community in which he lived. During the Great War food was in very short supply and increasingly expensive with only the wealthy able to afford it. Rationing had not been introduced at that time in the way it was during the Second World War. Very often there was little work for men to do after returning home from the horror of the trenches. Other returning ex-servicemen were so badly injured that work was not possible or was so limited that it paid little in the way of wages. The General Strike of 1926 left a great many families desperately struggling to feed themselves or cover the rent. In later life, particularly given the opportunities Dawley New Town presented, George's early experiences gave him the resolve to use his position as a councillor to bring about much needed social changes in education and housing to improve living conditions for local residents. George also held sincere religious beliefs being a Confirmed member of the Church of England, regularly attending the Hinkshay Mission Church. This too gave him an inner strength, developing his social conscience, to do what he believed to be right and to do his best for those who might need his help.
As with all young men, George liked some fun although, unlike his brothers, he was not one for dancing, but he was a strong and very accomplished swimmer and he loved playing football. He also had a passion for motorbikes and racing them at considerable speed. For this reason he became known as Mad Johnny and was promptly rewarded for his recklessness when he came off his bike smashing his ankle. This accident required him to undertake some painful pioneering surgery in order to save his badly injured foot. After a long stint in what he called leg irons he was left with a shortened leg and a permanent limp. None of this stopped him from working or becoming one of the founder members and a driving force behind the fledgling union at Clays Foundry where he became a Foundry Foreman, remaining there until his retirement in1968. By the early 1960s Clays had undergone a number of take-overs and name changes by which time George had firmly established himself in local politics. At about this time he was offered a paid directorship in the company which he refused. The ideals of his youth had remained with him: he was a union man and a working man, principles he was not prepared to give up or compromise.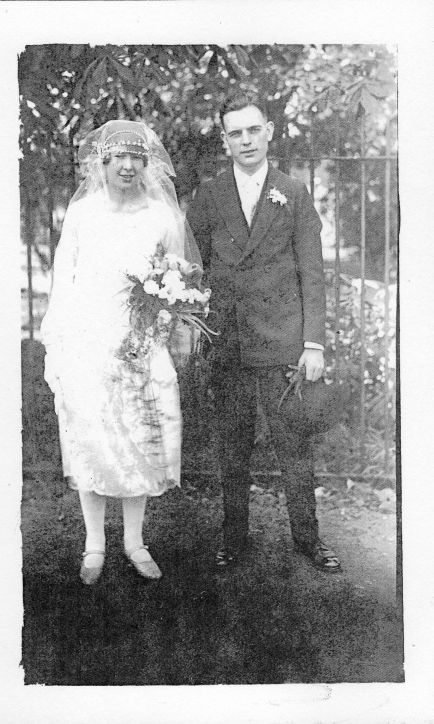 George married Margaret Stewart Roberts in 1928 after her return from Manchester where she had been employed for several years as a nanny to a very respectable professional family. Besides being a great advocate of women's rights and equal opportunities, she too shared George's interests in socialism and the newly forming unions. Together they set up home at Hinkshay but eventually moved to Portley Road, Dawley where they brought up their family and remained for the rest of their long married life.
During the Second World War George was in a reserved occupation and spent at least some of that time at the Coalbrookdale factory where they worked on various materials for the war effort.
George openly acknowledged his respect for Alderman Sinclair a former mayor of Warrington and the national organizer of the Foundry Workers' Union. He had a profound effect on George as they saw each other often and became good friends. It was through his influence that George became interested in local politics.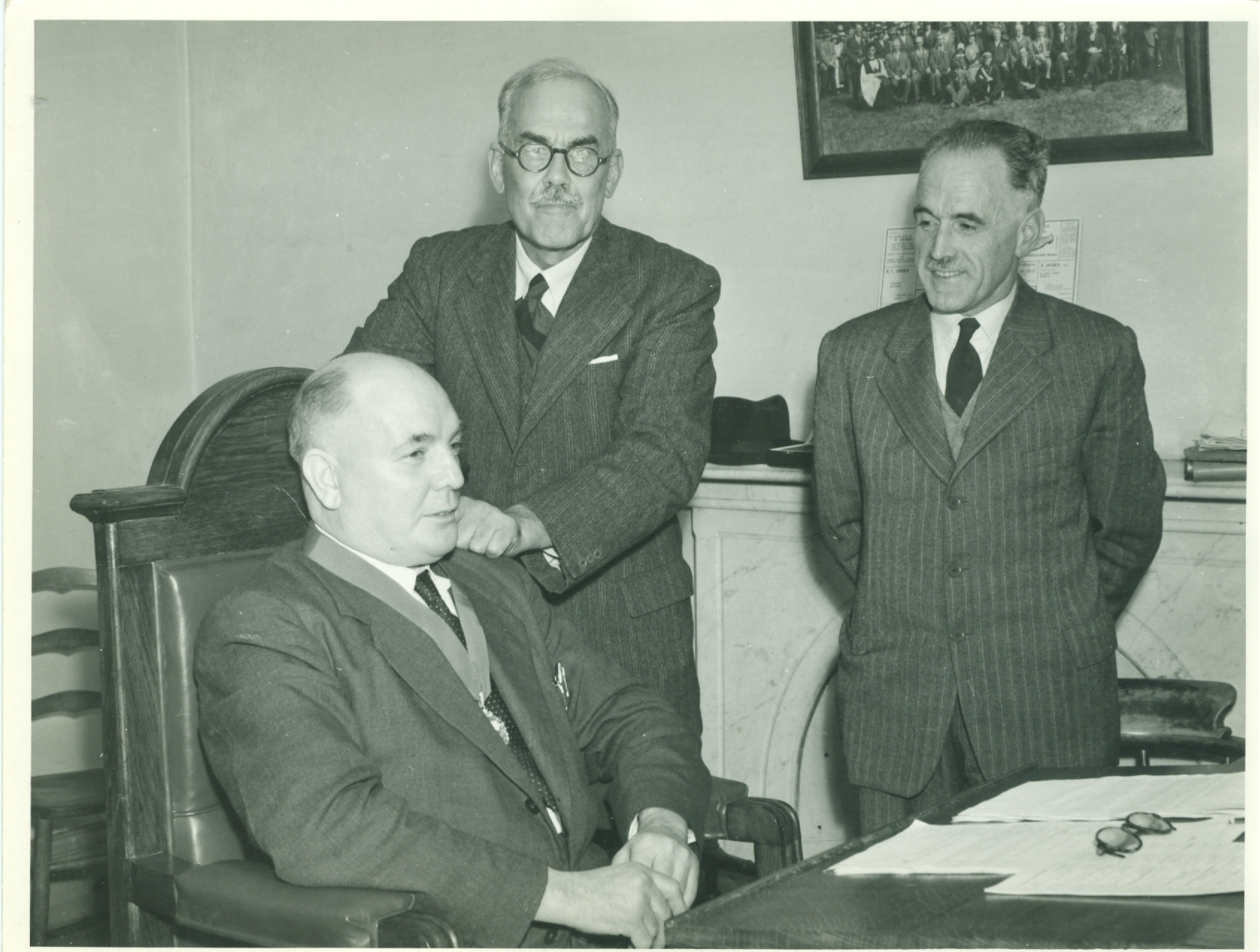 In 1945 the trade unions came together and decided that they would fight for representation on local councils. George would later remember that they first met in the Queen's Head in King Street, Dawley. After this initial meeting George made contact with the Workers Educational Association and they in turn organised a training course on local government in Dawley. After that course there was no stopping George Chetwood and he stood for election with eight other union-sponsored candidates. All eight of them including George were elected.
(George Chetwood, Chairman of UDC in chair)
The Chetwood home at Portley rapidly turned into George's office after he became a councillor on the old Dawley Urban District Council in 1946. He took over the reins from his good friend and mentor, Alderman R Alma Rhodes, a towering personality in local politics who had been on the council since its very beginnings way back in the 1890s. Alderman Rhodes had a motto which George may well have taken to heart, "Press on! Never despair, never be discouraged. However stormy the Heavens, or dark the way, or great the difficulty, or repeated the failures,-Press on!"
In April 1952 George stood as the Labour Party candidate for the Shropshire County Council Elections, Malinslee Electoral Division, which he won easily. By this time he had built up an impressive CV. On his election flyer he was described as being a lifelong and prominent Trade Unionist; Chairman of the Dawley Branch, AU.F.W. with over a thousand members; President of the Wrekin Trades Council for over 2 years; Labour member of Dawley U.D.C for 6 years; Chairman of Dawley Road Safety Committee, 3 years; founder member of the Old Folks Restroom Committee; Chairman of the Group Committee of the 2nd Boy Scouts; Chairman of Dawley Ex-Service Men's Club and School Manager of Malinslee, Langley and Pool Hill Schools.
George was particularly keen to support ex- servicemen in the area and freely gave much of his natural resources to help establish Dawley Social Club which had grown out of the Dawley War Memorial Hall at King Street in which he had been involved since its beginnings in 1928. In September 1974 some months after George had died, the Shropshire Star announced the official opening of the George Chetwood Lounge at the club in recognition of his work over the years in connection with ex-servicemen and women.
After his successful election to the County Council, George was able to raise the profile and need for a new secondary school in Dawley which was only partly available at the old Pool Hill School. By 1956 the newly built Dawley Secondary Modern School opened its doors to pupils with Mr. Rennie as head teacher and George as the Chair of Governors. George still held the same position in 1967 when the school became a comprehensive with a new name, the Phoenix Comprehensive School, under the inspirational and progressive headship of Mr. Richard C Neal. The school continued to expand into the 1970s with new laboratories, art and drama areas. The local community's sports and leisure services were also developed on the site with the joint co-operation of the council with George leading on many of these developments. In recognition of his services to the educational community, part of the new build at Phoenix, which was open to wider community use and sometimes as the town's polling station, was named the Chetwood Hall and Coffee Bar.
During the fifties George was asked several times to stand as an MP at a less than secure seat near Birmingham. In typical style, George refused the offers making it clear that he had more important work to do in his own area. George and many of his council colleagues were only too well aware that the Dawley area was in terminal decline, its industrial heyday had long since finished, the vast majority of the housing stock was in private hands and in shockingly poor condition, the landscape was heavily scared as a consequence of former industrial activity, notably mining. As early as August 1946, Mr. R Lewis Price the Council Surveyor, produced a short report for the U.D.C explaining the work he considered would be required to redevelop the Dawley area . The only problem was where would all the money come from to undertake such a huge project?
The debate for a New Town at Dawley really began as a discussion in George Chetwood's living room at 55 Portley Road where Mr.A.W. Bowdler, the Dawley correspondent for the Wellington Journal and Shrewsbury News, was a regular visitor. That informal chat, one of many the two men often enjoyed, led to Mr. Bowdler publishing an article in the Birmingham Gazette which incorporated a suggestion that the semi- derelict areas of east Shropshire might be utilized for development. The article appeared in print in 1955 and the council, particularly George Chetwood and the Surveyor for Dawley, Mr Charles Savage, were keenly in favour of approaching Birmingham City Council with their ideas . George Chetwood sent a letter to the Mayor of Birmingham, dated 16th February 1955, offering his services to receive a delegation from the Birmingham Corporation to conduct an inspection of his council's area .
The decision to establish a New Town at Dawley was finally announced in the Express and Star, Wednesday May 30th 1962 and appears to have met with all round approval. In the same press release, George, Chairman of D.U.D.C, gave this statement directly from his place of work.
"Our council welcomes the news – for years we have been urging that the waste land here could be put to good use, for housing. But we could not develop it ourselves; it was too costly. From what we have already seen of Birmingham people who have come here under the "pilot" overspill scheme, I'm sure the thousands more who are coming will settle in well. As a council we shall be proud to play our part in helping people to live in better homes" .
George Chetwood lived a full life devoting most of his spare time to public service, real service at a time when expenses claims were nonexistent. He always felt it was an honour and his privilege to serve the electorate and from the beginning George never actively sought acclaim indeed he shunned it. In a 1966 newspaper interview he set out an agenda for regional government in his typically logical and far sighted way and suggested for the first time the idea of having paid full time councillors but from where he sat this was decades away . In his final years George was often called Mr. Dawley and those people new to the area believed that was his real name and addressed him as such. This sobriquet gave him no end of amusement and demonstrated just how much the man had become synonymous with the town. Wrekin Council recognised his immense contribution to public life by naming part of an estate at Malinslee, his electoral ward, George Chetwood Court. During the formal address at the opening ceremony the closing paragraph simply stated, "Father of the New Town, George Chetwood died May 1974, at the age of 71 years. He was instrumental in the opening discussions with Birmingham City Council on the provision of overspill housing in Dawley, a scheme which prompted the conception of Dawley New Town, and ultimately, Telford" .
References

To The Chairman of The Dawley UDC. Dated 27th August 1946 and signed R
Lewis Price. Document in Chetwood family archive.
Wellington Journal & Shrewsbury News. Saturday June 2nd 1962. Front page story,
New Town at Dawley. This article mentions the Bowdler report appearing in the
Birmingham Gazette and also has statements from George Chetwood and Charles
Savage.

Original copy letter in Chetwood family archive. Authorship, J G Chetwood.
Express & Star Wednesday May 30th 1962, Salop Edition. Front page story. The
new town decision is welcomed. DAWLEY: EVERYBODY IS HAPPY! By Harry
Godwin.
Partially dated newspaper clipping, Shropshire Star 1966, Call Him Mr Dawley! A
Peter Kirk Profile.
District of the Wrekin Council Estates Department. An Introduction To George
Chetwood Court Grouped Dwelling Scheme.