Biography of Rev. John Poole Sandlands
REVEREND JOHN POOLE SANDLANDS
1838 -1915
by Gill Egan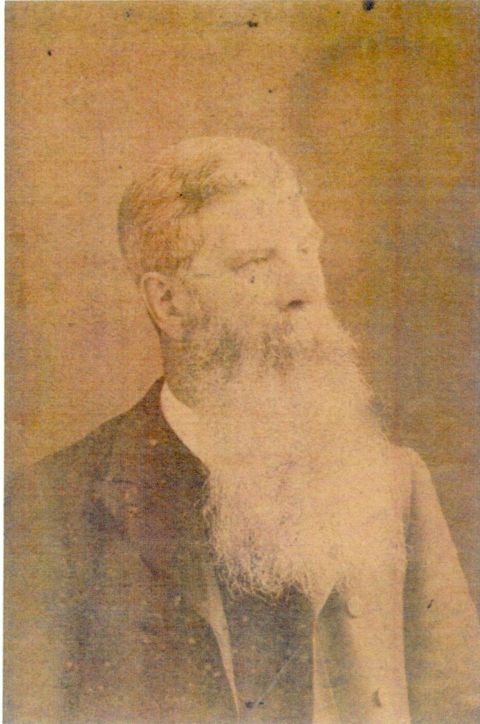 (© Courtesy of Ida White)
John Poole Sandlands was born in Dawley in the spring of 1838. His parents John and Mary Ann already had two children, four year old Robert and two year old Isabella. They lived in Finger Lane, which is now known as Finger Road.
John and Mary Ann went on to have six more children, all daughters, between 1840 and 1852. Of these daughters, neither Ann or Jane Sandlands lived to their fifth birthdays, Sarah died at the age of twenty and Eleanor died at the age of twenty eight. Only five of the nine Sandlands children lived to an old age.
John Sandlands senior's trade was that of a Saddler. On the census of 1841 Mary Ann's 15 year old brother George, who was staying with the Sandlands family at the time, was also a Saddler. It is possible that George learned the trade from his brother-in-law and it is noted on the census of 1851 that John and Mary Ann's eldest son Robert was also a Saddler, following in his father's footsteps.
It appears, from the censuses that Mary Ann had busied herself with the education of her brood. On the 1851 Census, Isabella, John, Harriet, Eleanor, Sarah and Mary are all described has being 'Scholars at Home'.
Ten years later by the Census of 1861 Mary Ann's teaching skills have been rewarded. John Poole Sandlands now aged 22 is employed as a School Master. His sister Harriet is a School Mistress and Eleanor and Sarah are both pupil teachers. Their eldest son, Robert is now aged 27, married to Ann and living at Lightmoor with a family of his own. Also living with Robert and his family is Ann's father, and they also have a boarder and a servant.
By 1863 two of the Sandlands' daughters were employed at the Pool Hill School in Dawley. This School had been built in 1846 and a girls' department opened in 1849. The school was just a short walk from the family home in Finger Lane. Sarah was a teacher at Pool Hill Girls' Department and Mary transferred from Pool Hill Girls' Department to Pool Hill Infants in 1864.
John Poole Sandlands had gone off to Lichfield College to further his education. From there he went to Trinity College, Dublin.
1866 was the year that John Poole Sandlands became the Curate of St. Luke's, Hanley and also the year that his sister Sarah died. She was just twenty years old. On 27th February 1866 Sarah Sandlands was buried in the graveyard of the Holy Trinity Church in Dawley. A year later she would be joined in the same grave by her father John, and just four years later by her older sister Eleanor.
It was during the first quarter of 1869 that John Poole Sandlands married. His wife Janet Pitcairn Simpson was from Airdree in Scotland. In 1870 John and Janet had their first child, a daughter, whom they named Sarah. Their second child, a son, Paul Ernest Sandlands didn't come along for a further eight years and during this time John Poole Sandlands became the Reverend JP Sandlands, Vicar of Brigstock, Northamptonshire. The Sandlands family lived in the Vicarage of St. Andrew's Church.
On the census of 1871 when John senior had been dead for about a year we discover that his wife Mary Ann and daughter Harriet (who had been teaching) had now taken on the trade left by John and were both saddlers. Mary Ann was fifty four years old and Harriet, still single and living at home with mother was thirty one. Daughter Mary aged 22 was also still living at home and still employed as a school teacher. Although John Poole Sandlands had been living away from Dawley for some time, the family links were still strong as we see on the 1871 census, on the night of 2nd April 1871, when the census was taken, John's daughter Sarah was staying with her Grandmother and aunts in their home at Finger Lane, Dawley.
John Poole Sandlands' daughter Sarah grew up in Brigstock and around 1891 she married Doctor Charles Herbert Brown, the son of Charles Gage-Brown. His son Paul Ernest Sandlands QC was appointed Officer of the Order of the British Empire (OBE) in the 1920 Civilian War Honours for his police service.
John's brother, Robert Sandlands, and his family had now moved to the Manor House, Great Dawley. (The Manor House stood on land which is now known as Manor Gardens) Robert was now a farmer of 51 acres as well as a saddler. He had three children Mary Jane, Isabella and John Robert and the family had their servant, Emily Powell there with them too.
During his time at Trinity College, Dublin, John Poole Sandlands attained a Bachelor of Arts degree in 1860 and then in 1863 he attained his Master of Arts degree. Over the following years as well as being the Vicar of Brigstock he was busy writing books on nutrition and healthy eating and he was also an authority on public speaking, writing books on this subject too.
His maternal grandfather, Thomas Poole, was, on the census of 1851, the Town Crier in Ironbridge and it may be that John inherited his powerful voice and confident ability for public speaking from him.
Through his many books on the subject of health he became known far and wide and the Vicarage gradually developed into a sanatorium, to which patients travelled to from all over the world. He had made a special study of the throat, in relation to voice production, and was visited by many eminent men for treatment including cabinet ministers, church dignitaries, and stage celebrities.
One of JP Sandlands books titled 'How To Develop General Vocal Power and Cure Stammering and Defective Speech' was reviewed by Bernard Shaw in 1886.
Other books written by John Poole Sandlands include:-
The voice and public speaking ~ 1880
How to be well, or the principles of health ~ 1896
Natural food ~ 1902
Walking and the principles of training ~1903
Science in the daily meal ~ 1903
Corpulence. A case and cure, or why grow fat ~1903
Quacks and what they do by one of them ~1904
Health; a Royal road to it ~1909
Consumption. An appeal to the common sense ~1910
Recently a couple of John Poole Sandlands' great great neices visited the Vicarage at Brigstock, curious for an insight into the personality of their interesting ancestor. They learned that the Village of Brigstock has two roads named after Rev JP Sandlands,' Sandlands Close ' and 'Sandlands Avenue' and that he is still well remembered and much loved. He was a most remarkable man, a vegetarian, total abstainer and non-smoker. He was interested in travel and education and gave private lessons as well as lessons at the local church school in reading, spelling, geography and scripture.
The Reverend John Poole Sandlands died when he fell down the stairs at the Vicarage in 1915. He was seventy seven years old.

Gill Egan is the great great great neice of Reverend John Poole Sandlands
Further reading:
Information on the life of Reverend John Poole Sandlands from his obituary in the newspaper 'The Kettering Leader' (Northamptonshire) edition, 5th February 1915.
Shropshire Archives - teachers record of Pool Hill School, Dawley 1863-1867.
Information on Paul Ernest Sandlands QC OBE from Wikipedia.